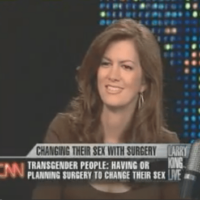 Jessica Lam
Vice President | Class Instructor
Jessica Lam is an ally and advocate for gay, lesbian and transgender issues and has appeared nationally on television programs such as Larry King Live, the Ricki Lake Show, Don Francisco Presenta, Maria Elvira Live, 7 Dias, Despierta America, and many other televised programs and newscasts.
Some of Jessica's accomplishments include the creation and production of South Florida's first Transgender Education Symposium in May 2010, (the TransCon). She has been and continues to speak at many Universities and High Schools engaging students and educators through workshops, lectures and stories and is also a published children's book author (the Adventures of Tina & Jordan). Additionally, she has facilitated transgender sensitivity trainings for Best Buy and AMC Movie Theaters, among other venues and offices. She is known to have worked and work with local South Florida non-profit organizations such as Pridelines Youth Services, the YES! Institute, the Alliance for GLBTQ Youth, and Safe Schools of South Florida. She is a recognized known leader in the LGBTQ+ Community and has served on the Board of Directors for the Aqua Foundation for Women, Save Dade and Drag it Out; She currently serves as the Vice President for the International Transgender Certification Board (ITCA) and is the owner of Jesilam Enterprises.
Jessica is a proud activist, philanthropist and entrepreneur utilizing her skills and talents to help make a positive difference in this world, while standing tall as a Transwoman in a modern era.